This is the 1980 Class Website
To Access the Class Officers, Company Reps and Companies pages use the last name of our Superintendent (lower case) while we were at USNA as the password.
Also see information at USNA 1980 Facebook – Here
Be sure to visit the "Giving" page for important information and updates from our Class Fundraising Chairman on the Class of 1980 Giving Programs!
About 1980
Before we can no longer remember our days at USNA help capture our class history here.
Please contact billpersonius@gmail.com with details about the class.
We started on 06 July 1976 with 1,301 inductees and ended on 31 May 1980 with 947 graduates (354 non-graduates).
Dave Delonga graduated #1 in the class.
??????? was our class Anchor Man.
Class of 1980 got to the top of Herndon Monument in XX hrs, XX mins.
First Class Brigade Commanders: ? and ?
First Class with Women: (80 inductees, 54 graduates).
First Rear Admiral: ?
77 Fallen Shipmates: (56 graduates, 21 non-graduates)
NAVY FOOTBALL – 1976-1979
1976 (4-7) NAVY vs. ARMY – Navy 38 Army 10
1977 (5-6) NAVY vs. ARMY – Navy 14 Army 17
1978 (9-3) NAVY vs. ARMY – Navy 28 Army 0
Holiday Bowl NAVY vs. BYU – Navy 23 BYU 16
1979 (7-4) NAVY vs. ARMY – Navy 31 Army 7
Flag Officers – Click on Name to see Biography
1* RDML – Rear Admiral Lower Half
BGen Ronald F. Baczkowski, USMC (Ret.)
RDML Douglass T. Biesel, USN (Ret.)
RDML Michael J. Browne, USN (Ret.)
RDML "A.B." Cruz, USN (Ret.)
RDML Dan Davenport, USN (Ret.)
RDML John Elnitsky II, USN (Ret.)
RDML Robert M. Hennegan, USN (Ret.)
RDML Bill Sizemore, II USN (Ret.)
2**RADM – Rear Admiral Upper Half
RADM Michael A. Brown, USN (Ret.)
RADM Samuel J. Cox, USN (Ret.)
RADM Sandy L. Daniels, USNR (Ret.)
RADM Earl Gay, USN (Ret.)
RADM Bradley R. Gehrke, USN (Ret.)
RADM James C. Grunewald, USN (Ret.)
RADM Mark Guadagnini, USN (Ret.)
RADM John R. Haley, USN (Ret.)
RADM Joseph A. Horn, Jr., USN (Ret.)
RADM Sam Perez, USN (Ret.)
RADM Victor M. See, Jr. USN (Ret.)
3*** VADM – Vice Admiral
VADM Bruce E. Grooms, USN (Ret.)
VADM James W. Houck, JAGC, USN (Ret.)
VADM Bill Lesher, USN 
VADM Frank C. Pandolfe, USN (Ret.)
4**** ADM – Admiral
TBD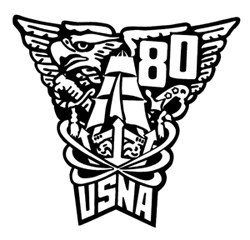 Nice Work…Navy 31 Army 7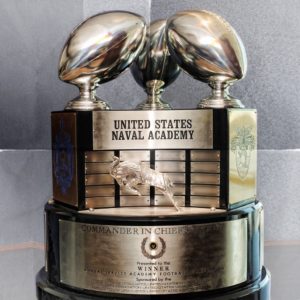 40th Year Reunion 11 Sept 2020
Navy Beats Army 12 Dec 2020 Philadelphia